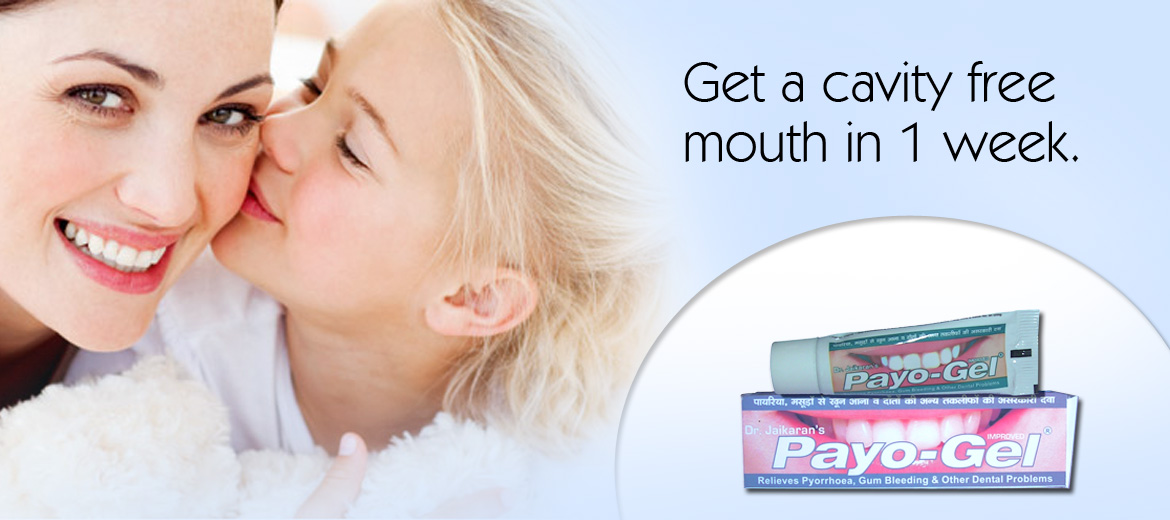 Payogel: Payogel is a herbal gum-paste made out of natural herbs that are processed under the guidance of experts. Using finger tips, Payogel is mainly used to massage gums.   
 
Unique Benefits: 
Payogel stands apart in the marketplace as it has been developed through unique trials and the product is of high quality standards.
Payogel gum paste cures and provides instant relief from Gingivitis Pyorrhea, which is a disease related to bleeding gums and swollen spongy gums. 
Payogel kills germs along with the support of natural elements like Tejowati, Vai-Vidang, Sat Pudina, which results in relief from teeth or gum related pain.   
Payogel contains Majuphal, the natural source of tannic acid and is the first choice of modern dentistry. It also contains Bakul (an ayurvedic ingredient) that helps in squeezing of the gums to a natural shape. It also comes along with a unique herbal constitution comprising of Lavang, Jyotishmati and Ashok.
Uniqueness of Payogel: 
It provides instant relief as well as long cure with its triple action formula, comprising of -
Tejowati, Vai-Vidang and Sat Pudina: Relief from pain   
Majuphal and Bakul: Strengthening of the gums    
Lavang, Jyotishmati and Ashok: Kills germs